Programs
Best Friends Daycare at our Staten Island school is a for-profit entity created to accommodate the working parent by providing child care services for mainstream children in the community. We are licensed and monitored by the Department of Health. We are also under contract with The Agency for Child Development to accept vouchers from families who can not afford to pay tuition at our Staten Island school.
Our special needs population is referred to us by the school districts and/or the Early Childhood Direction Center of the DOE. State and City funding provides free transportation, tuition, and free breakfast and lunch for majority of our students. Certain parents may be charged a minimal fee depending on their income. The funding is to be used to accommodate disabilities that interfere with a child's educational process. The key goal is to establish quality indicators through direct therapeutic intervention by placing children in small groups of no more than 12 with a teacher and an aide/s in each classroom.
Special Class Integrated Setting (SCIS)-S.I. only
Another city/state funded program to afford preschool students with disabilities an education in integrated setting in a least restrictive environment with their non-disabled peers. This program allows our school to serve children whose needs fall over a wide continuum.
Universal Pre-kindergarten (UPK)-S.I. only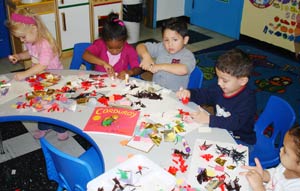 The UPK program was created to establish an early education foundation providing high quality, developmentally appropriated programs designed to meet the social, cognitive, linguistic, emotional, cultural and physical needs of children. It encourages school districts and communities, by providing funding, to examine the needs of families and children and explore how the implementation of the Pre-K program best meets the needs of the community.
Our program was awarded an A1 rating; a score of 99 out of 100 after the third year of operation.
The school day is divided into many different activities; circle time, fine and gross motor activities as well as cognitive, science, socialization and supervised free play-time.
We have a full-time art therapist, music and movement therapist. We also offer educational school trips, special enhancement projects such as puppetry and story telling workshops, gymnastics classes that blend physical, social, emotional and cognitive skills, and participate in the "Read for the Record" day annually.
Therapy sessions and activities are interwoven into the day for our special needs children based on each child's individual needs.
Program Director of our Brooklyn School:
Janet Williams - MS Ed, S.A.S
Graduated from St. John's University, 1992 S.A.S (School Administration/ Supervision) Long Island University, Graduated, 1978 with Masters of Science Degree in Education- Has been serving in the field of education for 33 years.
Program Director of our Staten Island School:
Alexandra Pazzas - MS Special Education, S.B.L.
Graduated 2011 from Touro College, Brooklyn, NY,
Certificate School Building Leader, College of Staten Island, NY
Our Clinical Staff
Both of our schools are staffed with full time special education teachers, speech therapists/pathologists, psychologists, social workers, physical therapists, occupational therapists, and art and music therapists. All staff is certified in their respective fields as required by the NY State Department of Education.